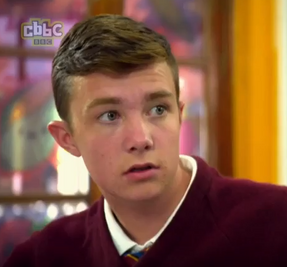 Ash is Josh's friend and he loves monkeys. He always pranks Ryan. Ryan gets fed up
and calls ash an idiot but one time Ash flicks a rubber band at Mr.Bell (Ding-Dong) then Mr.Bell looks at the rubber band and says. 'Which one of you is Ryan' (Ash wrote Ryan's name on the rubber band) And then Ash says to Ryan 'I'm stupid but I'm not that stupid'
Series 1: Ash is a troublemaker but also a silly troublemaker he calls Josh The Genius and calls Ryan Mr.Custard Man.Although Ash is a bit of a donut (Josh's words)he can crawl out of trouble in no time.Once he got Ryan and Molly stuck in a Cupboard.
Series 2: Ash gets even more clever after the summer he is sometimes confused but clever at some point. Ash also has a crush on Zoe-Marie and gets stuck with her in an Ice Cream Truck,he also wants to get a million hits on YouTube when Ryan gets pranked but he never videos the funny things he does to him.
Series 3: In Series 3 Ash wants a girl in his life but he's not sure how to do it,so when Josh was asking Rachael to come by his house to make a song Ash says 'You should bring some of your friends Rachael after he says that,Rachael says 'I'm actually busy' and then she leaves and Ash says to Josh 'Thanks,thanks a lot'. When Josh has the opportunity to move to Hillview Institute He tries to persuade Josh to stay, he tried so hard he even wrote a speech that he was writing till 5:00am and he still doesn't persuade Josh,so he and Isaac made a bench for Josh saying 'Josh Carter LEGEND Sat Here' and that's why Josh didn't tell Ash or Isaac that he's going to Hillview Institute.
Series 6 (guest appearance) Ash were last seen in series 6 episode 1 when at an antenatal class with Zoe- Marie
Community content is available under
CC-BY-SA
unless otherwise noted.