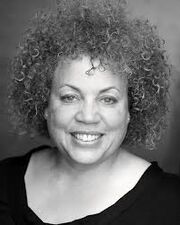 Anita Andress (Liz Hume-Dawson) - Miss Andress was a teacher at Elmsbury and she was the head teacher at Elmsmere Manor.
She was made Assistant Head Teacher in the second series. She is often shown to be an assistant in Mr Bell's schemes against the students, she seems to teach IT as in Sick, Nero is asked to do a project on ICT. She appears in all series except 3 and in the Series 3 finale, she becomes head after the demotion of her ex co teacher Mr Bell and the sacking of Miss O' Brien. In the first and second series her hair is shoulder length and frizzy. But in the fourth, he hair is now neck length and wavy. She is slightly fat as described by Owen when he said " Ah but not only do I need to measure the tallest teacher, but also need to measure the ...widest". So he got detention.
In Series 5 it is confirmed by Mr Bell that Anita Andresss has left Elmsmere Manor.
Community content is available under
CC-BY-SA
unless otherwise noted.