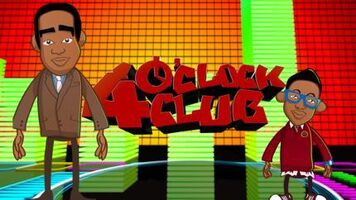 4 O' Clock Club is a British children's television series, which premiered on 13 January 2012 on CBBC and BBC HD on 13 January 2012. In time for the 3rd series, the cast was renewed and saw the addition of Josh & Nathan's younger cousin Nero and his newly found friends, after the fire that burned down Elmesbury.
Plot
Series 1 Josh, is a 13 year old school boy at Elmsbury High School. He dreams to be a rapper one day and in the debut episode he meets his rapping idol B-Mode. He often gets into trouble at his school and was put into detention, otherwise known as the 4 O' Clock Club.
On the first day of the new term, his brother has chosen to become his teacher and when his brother was at school, things were much worse than the problems dealt with today. As the episode progresses, he becomes more teacher material but then suddenly reflects on his life and tries to become the teacher who could connect with the children. This however works and fails at the same time. When young, Nathan, Josh's brother, wanted to be a rapper too but failed for him and he teaches Josh how it could be successful for him.
Series 2
Nathen Carter goes to Scotland and Dexter Harris takes over the 4 O' Clock Club and Josh's room so Josh has to camp out in the living room. Not forgetting the new head teacher, Mr. Bell known as (Ding-Dong to the kids). He keeps bringing in new schemes and tries to send the rebelling kids to Fowlmere Manor. Eventually MR Carter returns and marries Ms. Poppy a.k.a Mel Bold text Guest Characters:
Elliott Harris
PC Rowe
Mr Crispin Bell
Hacker T. Dog (spin-off, Hacker Time)
Main Characters
Nero Johnson- Akai Osei
Dexter Harris- James Callender
Mrs Carter - Dystin Johnson
Miss Poppy - Laura Aikman
Molly - Alana Thornton
Ryan - Oscar Lloyd
Ash Newman - Tom Rolinson
Miss Andress - Liz Hume-Dawson
Agness - Sade Malone
Zoe-Marie - Ruby Morgan
Dexter Harris - James Callender
Community content is available under
CC-BY-SA
unless otherwise noted.